Dining in Voneten Guesthouse
?About Breakfast

At Voneten guesthouse, breakfast is available with reservation in advance.

?About Dinner

The guest house has kitchen.
So you can buy island foods and cook some local dishes.
In the kitchen, we have a cooking utensil, a large refrigerator, a gas stove with a grill, a toaster, an oven range, a rice cooker, a basic seasoning, dishes and so on.
All of them are available for free.

For dinner, there are several restaurant near our guesthouse.
Two sushi restaurants, Japanese restaurant, Udon noodle restaurant.
We can also arrange delivery to your room from those options.

Please contact us for the details.
Taiyaki Morning ¥1000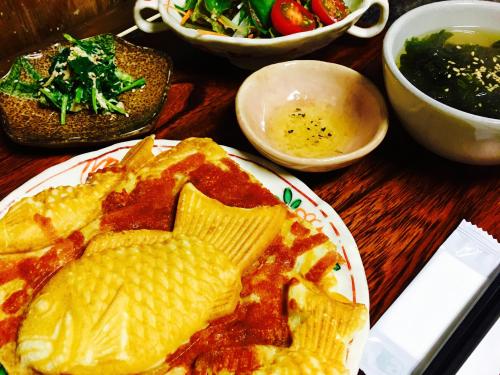 If you want to have a good breakfast, it's Takoyaki Morning.
Tomato based source miso Taiyaki with brown rice cheese risotto filling, island seaweed soup, salad, Ashitaba-tuna-mayonaise.
It comes with a drink and sweet Taiyaki after breakfast.

Voneten Guesthouse is the only one place in the world where you can eat Taiyaki for breakfast!
Taiyaki Morning ¥500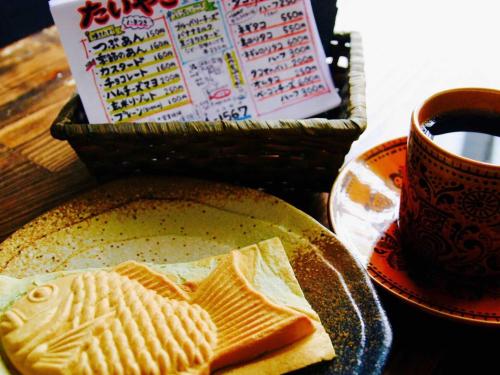 Another option is light breakfast, 500yen per person.
It is a set of your favorite Taiyaki from all six types and drink.

Originally cafe is open from 11 o'clock, but only for staying guests, we will prepare it at your preferred time before opening!